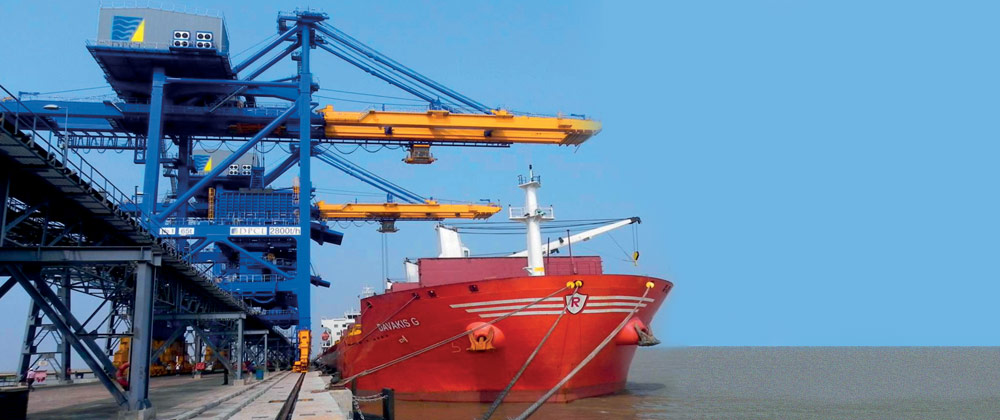 Dhamra Port Company Limited (DPCL), a 50:50 Joint Venture Company of Larsen & Toubro Limited and Tata Steel, was commissioned in May 2011.
Dhamra Port is a deep-water, all-weather Port in Orissa. The Port has been developed on BOOST (Build, Own, Operate, Share and Transfer) Basis and the Government of Orissa has given the concession to DPCL to Operate the Port for a Period of 34 Years Including 4 years of Construction Period. 
Dhamra Port is located near the village Dhamra on the North of the river Dhamra, about 65 km from Bhadrak in Orissa. It is situated between Haldia and Paradip Ports. Dhamra is in close proximity to the mineral belt of Orissa, Jharkhand and West Bengal and its deep draft suitable for large vessels makes the port one of the most cost-effective and efficient Ports on the Eastern coast of India.
Few Parameters of the Port are mentioned below:
Berthing of two capsize vessels with facilities for simultaneous discharging and loading operations
Fully mechanized and efficient cargo handling systems
Discharging Vessels at the rate of 60,000 tonnes/day
Loading Rakes within 1.5 hours
Unloading rakes within 3 hours
Loading vessels at the rate of 80,000 tonnes /day
Iron-ore Stock pile Capacity -710,000 tonnes
Coal Stock pile Capacity – 630,000 tonnes
Cargo : Export of Iron Ore and Imports of Coal & Limestone
2 x 2,800 tph ZPMC Ship Un-Loaders, 1 x 5,000 tph ZPMC Ship Loader, 2 nos. 25 tips/hr Wagon Tippler system, 4 nos. Stacker Reclaimers and 2 nos. Rapid Loading Systems
Railway Connectivity to Bhadrak on main line, total length of 65 km and entry and exit towards both Kolkata and Chennai directions complete with auto signaling & telecommunication and overhead electrification
132 KV Transmission line from Bhadrak along our corridor & Switchyard at Port

L&T IDPL exited the project by divesting its stake in Dhamra Port to Adani Ports in May 2014.