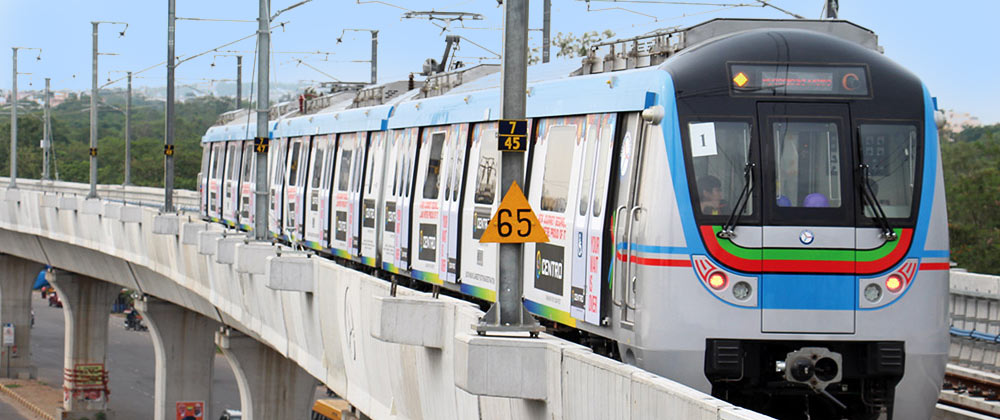 L&T Metro Rail (Hyderabad) Limited - a subsidiary of L&T IDPL is implementing the Hyderabad Metro Rail Project. Valued at over USD 4 billion (phase 1), this is the world's largest Public- Private - Partnership (PPP) project in the Metro sector which is being executed on a Design-Build-Finance-Operate-and-Transfer (DBFOT) basis.
The concession period is 35 years, with an entitlement to renew for a further period of 25 years. The project is scheduled to be completed in 5 years.
The Hyderabad metro network will cover a total distance of 72 km across three corridors
Corridor I : Miyapur to LB Nagar (~29 km, 27 stations)
Corridor II : Jubilee Bus Stand to Falaknuma (~15 km, 16 stations)
Corridor III : Nagole to Shilparamam (~ 28 km, 23 stations)
The metro will include 66 ultra-modern stations with state-of-art&
Metros and MRTS (Mass Rapid Transport System) are emerging as viable solutions to the infrastructure woes plaguing growing cities. The unique L&T Metro Rail Hyderabad Project focuses on integrated public transportation and infrastructure development of Hyderabad in Andhra Pradesh.
An urban rejuvenation and redesign effort to transform Hyderabad into a people-friendly 'green' city, the metro will be an efficient, safe and reliable public transport system. It will decongest the city's roads and provide a seamless transport network to reduce travel time – with the added dimension of augmented comfort levels for the masses. Eco-friendly, it will reduce carbon emissions, both by using zero-emission electricity and by minimising high-emission road transport.
Every city is unique in terms of its history, design, architecture, transportation character and layout. A city has to grow and evolve through a coordinated effort aimed at progress, while conserving its history and heritage. Progress will become structurally purposeful, ethically meaningful and economically sustainable only when it is achieved through a people-partnered process, and we strongly believe in and follow this process.
This project achieved financial closure in a record six months and is the largest fund tie- up in India for a non-power infrastructure PPP project. A consortium of 10 banks led by the State Bank of India has sanctioned the entire debt requirement of INR 115 Billion for the project. The equity component for the project, expected to be around INR 34 Billion will be infused by the L&T Group. A viability grant of INR 15 Billion will be sanctioned by Government of India, through the Ministry of Urban Development and the Government of Andhra Pradesh.
L&T Metro Rail Hyderabad project will develop 18.5 million sq.ft. of transit-oriented development in the earmarked Parking & Circulation areas and depots. Fare box collection from ridership, rentals from transit-oriented space, advertising and carbon credits are expected to contribute to the revenues of the project, which is scheduled to be commissioned by 2016.
The project is expected to trigger robust economic activity in and around the city and will generate substantial employment.
Salient features:
Green eco-friendly mode of travel – reduces carbon emission, fuel consumption and pollution
Faster, safer and comfortable air conditioned travel with reduced travel time
Seamless commuting with ultra-modern coaches
Connects major offices, retail and residential areas
Integration with existing rail terminals, MMTS and bus stations
High frequency of trains – reduced waiting time
User-friendly elevated world-class stations with lifts, staircases and facilities for the disabled
Parking facility at strategic locations along the route in the designated P&C areas
Automatic ticket vending machines and automatic fare collection system
Feeder buses to stations from different areas of the city
Commuter-friendly shopping facilities at the concourse level at stations
Once completed, the L&T Metro Rail Hyderabad Project will transform Hyderabad into one of India's most preferred cities, with integrated urban transport planning using inter-modal connectivity and convenient sky-walks, which will mark the beginning of an era of seamless commuting in India.